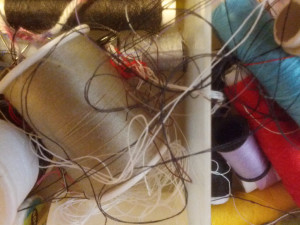 Sometimes, as a performer, surprising things happen. In fact, I'd say that part of the joy of performing is dealing with surprises. Much of the time, I feel crazed and irritated by surprises, but the more I improvise, the more I treasure them.
I'm involved in an occasional, ongoing project called Playlist Seattle, in which we create short theater pieces inspired local music. Our director/producer/muse, Kelly McMahon, selects songs for us to listen to and create pieces around, which we then cast, rework, rehearse, and perform — one night only. Opening night and closing night are the same.
There are times I tear my hair out in frustration at this limitation. Some of this is my ego struggling for (or against) perfectionism; when you have another chance, you can do things differently, often for the better. My inner monologue may be critiquing the whole concept of the show or the choices of the songs or just about anything anyone else around me is doing (why did he put those shoes there? doesn't she know how to say that sentence?).
For me, this critique is a sign that I need to get back to what I have control over: my own choices, my own words and movements, my own attitude.
Ultimately, the one-night stand is about letting it all out at once, taking a big risk and being willing to fail. In the case of our shows, one of the bands that inspires us plays their music after we perform, so they get to sit in the audience and watch what we've made out of their creation.
I didn't realize how big a risk that was until last night, talking to the members of The Missionary Position backstage after the show. THEY had been nervous; THEY didn't know what to expect. It's like my favorite Dr. Seuss story, "What Was I Afraid Of?" about the pale green pants with nobody inside 'em. Once you recognize that the fear and anticipation are mutual, you break down that wall and make a connection.
Another discovery I made was that there is a virtue in performing only once: scarcity, rarity, exclusivity. As someone who cares passionately about arts marketing, I realized that for those who want to be insiders, the opportunity to see something only 50 other people got to experience can be a big deal. Even if the experience is imperfect. Even if you don't "get" every part of it, and there are parts you dislike. Even if there are technical glitches, or artistic missteps. People who want insider status are willing to let go of a lot of other bullshit to attain what they crave.
From that perspective, the show changes. Not in practice, since whatever happened last night can never change. But reframing changes everything. I sat in the audience as the band played the songs we'd been working off of for a couple months and I finally heard them. And I also didn't, letting my imagination drift off and consider the world at large before coming back into the room.
One more magical, mystical thing happened as well: I was walking across the room when I felt what might have been tiny electric shocks on my arms. As I touched the place I'd felt them, I found a taut thread across my body. The light in the room was very low, so I couldn't actually see the thread, but I began gathering it in my hands so I could untangle myself and find its source. As I was doing this, I noticed another cast member doing the same thing. Others around us were either entangled in the thread or watching our movements curiously. "Is that some sort of actor thing?" someone asked me.
Where did the string come from? Was it a garment, unraveling? I gathered and gathered it, following it wherever it might take me, until I ended up backstage with one end in my hand in a tangled bunch and the other end coming out of a spool of navy blue thread in someone's backpack side pocket.
Later, retelling this strange story, I forced a metaphor out: the string connected us all, whether we felt it, saw it, or only watched other people experiencing it. Whatever else happens, whatever else I take away from last night, I want to sometime create for others that sense of surprise.
What thread have you been pulling on? Where has it taken you?